How To Make This Summer Epic With These Unique and Entertaining Outdoor Toys For Kids
It's that time of year! The sun is shining, the flowers and trees are blooming and the are birds out. Now, since your child has been cooped up inside for a while it's time to get them outside so the house can be a little quieter am I right?
We have found the best entertaining and unique outdoor toys for kids, teens, and the whole family, to enjoy the great outdoors and breathe in the fresh air. This summer will be a time you and your kids will cherish forever because of all the memories and laughter you will be creating.
These items are perfect for the backyard, some even for camping, or playing in a large field. There are endless ways to play and these will definitely get your child's imagination going. There is nothing like the sound of kids laughing outside, make this a summer they won't forget.
Remember to PIN to get ideas to make this summer full of fun
Post contains affiliate links. For more information, see our disclosures
Giant Toy Balls For Outside Play

Your child will love this ball. It's fun, squishy, wobbly, and a bunch of fun. Your kids won't get bored with this. They can throw it or lay on it as a huge never popping bubble. A great outdoor toy for older kids.
This is so much fun. It's like putting on a Sumo wrestler suit and bouncing all over the place. Your kids will be completely entertained all day.
These are classic toys, kids and adults love these things. Every time I see these balls I think of the movie "Don't Tell Mom The Babysitter's Dead"
Incred-A-Ball Body Bumper

Your kids will have so much fun outside with this huge toy ball. Get inside and see how far you can bounce!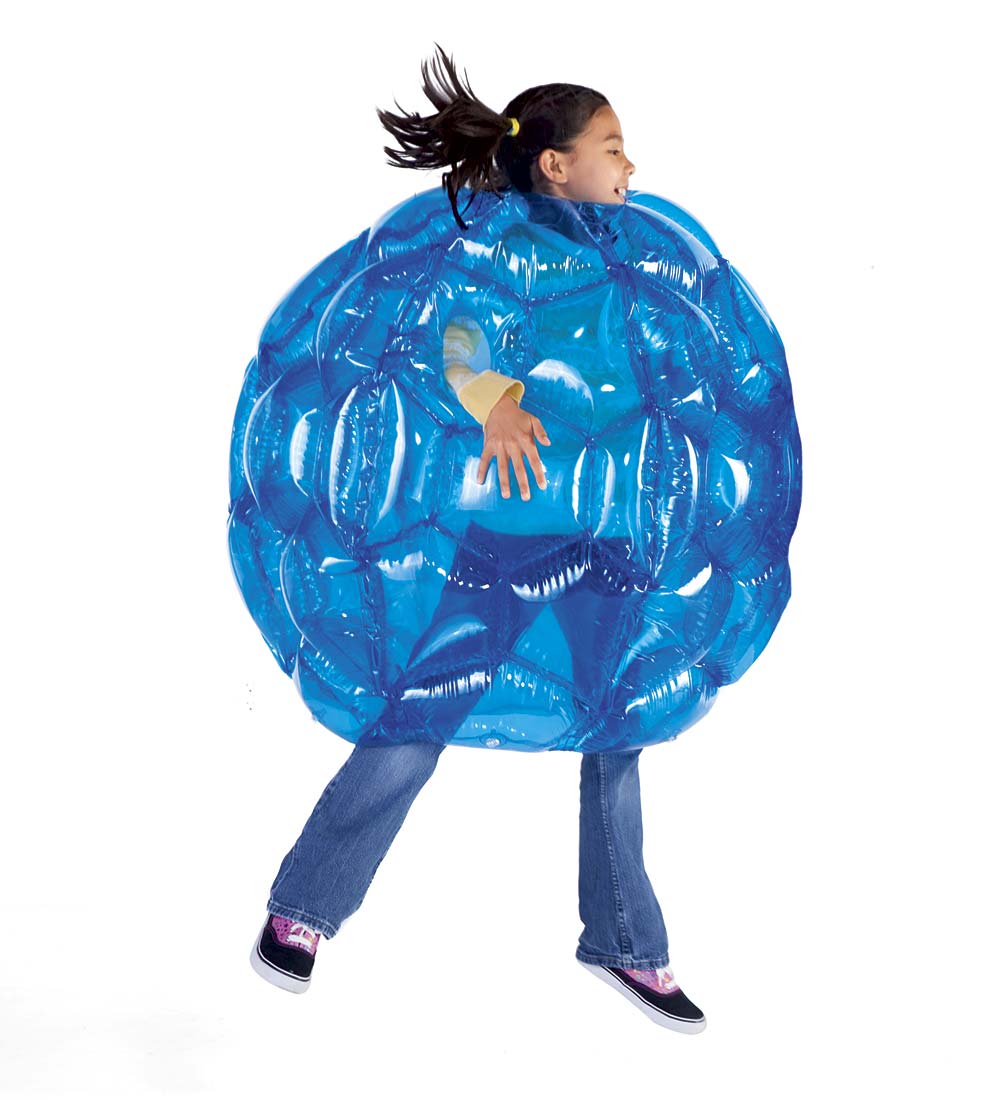 Outdoor Adventure toys
Get your kids outside with this toy and explore things that they may have never seen before. Let their imaginations run wild. Your kids will love this outdoor toy, seeing their joy when they find something new is so worth it.
This can come in handy when they go camping whether it's in their backyard or in the mountains. They can also use it to explore the summer nights and see what creatures they see
Ages 3-7
This is a great way for young kids to get interested in the solar system and learn about the stars and the moon. This is always a super cool toy for kids to have.
Ages 3-7
Kids love binoculars, figuring out how they work. Your kids can bring this toy anywhere outdoors that they go, on hikes, camping, car rides, even around the house. They can use their imagination and pretend they are on a safari or on a journey.
This is a great thing to get kids. They can explore the sky and see what they find. Discover a new interest they might have. This a great toy to get older kids to explore the great outdoors.
Outdoor Water and Sand Toys For all kids
Rise and Fall Water and Ball Table
This table is so much fun for young kids. Let them cool down with this fun outdoor splash toy for your child. This has so many fun things for them to play with and get creative with.
Sand and Water Toys For Fine Motor
These are great water tools for kids to play within their sandbox, water table, bath time, or in the pool. Fun tools to learn with and get their fine motor skills working.
This table has it all, trucks, helicopters, balls, and ramps they will have so much fun using this. A fun way to stay cool and get creative.
The perfect combo. What kid doesn't like to play in the water or play in the sand? This toy is perfect for those who love to get messy (but easy to clean up).
How cute is this box?! You child will spend so much time in here because it's so cute and super fun to build castles and use their imagination in this box
If you can't go to the park or the beach then bring it to your home! They can have a little picnic on the table and play all at the same time. So fun if you have play dates!
Yes, please! Who doesn't want a pool in their backyard? Everyone will want to come over to take a swim. Great for BBQs and birthday parties, even if it's just the family.
This is for sure right up my middle child's alley. He LOVES playing in the mud and dirt. Don't worry about them getting dirty, that's all the fun and way they learn and explore. This toy will keep you kids busy for hours in the backyard.
This is super cool. I loved going through the sprinklers when I was younger, I would have loved this as a child. The best backyard toy, it's simple but something that your kids will love.
Get your little surfer ready for the big waves. This is a fun backyard water toy that the whole neighborhood will want to play with.
Oh My God! How fun does this backyard toy for your kids look!? You will be named the coolest parent EVER! Perfect for those summer birthday parties, or just a fun water day.
This splash pad toy is a fun and simple way for your kids to have fun and cool down in the hot weather in your backyard. Buy Splash Pad Here
Shoot, I might get this just for me! Any kid will love this outside toy and will play in it for hours. Don't forget the sunscreen!Buy Rainbow Sprinkler Here
If you aren't able to go to the pool or beach then what better place than at home? The whole family can enjoy this. My boys never want to get out of theirs. Buy Swimming Pool Here
No better way to avoid long lines than to bring the water park to your own house. Kids from age 3- 10 can enjoy this awesome water toy.
Water Slide Sprinkler Splash Pool

This outdoor toy is the ultimate water slide with 3 in 1 fun for everyone. This has a water slide, sprinkler and pool all in one. It comes with two-speed boards.
How cute is this little caterpillar sprinkler? You young kids will love to run through this. The perfect outdoor toy to get your kid's energy out!
Buy Caterpillar Sprinkler Here
Outdoor Whimsical Toys
What a great way to get your kid's (boy or girl) imagination going. They can learn how to garden all while imagining they are in a fairy tale. Buy Fairy Garden Here
Mermaid Canopy

What a fun outdoor or indoor toy to get your child's imagination going. A great way to make a fun reading area.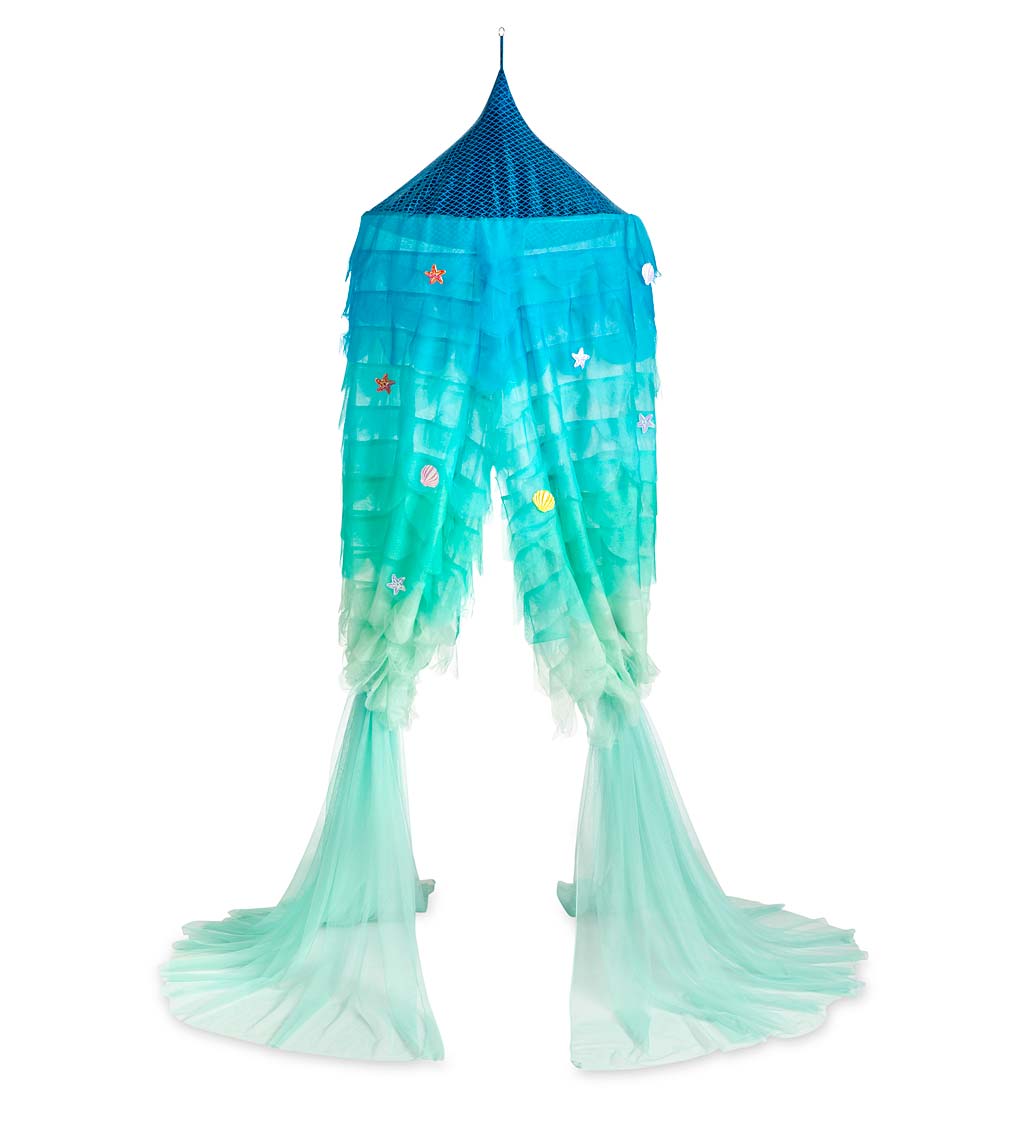 This tent has all sorts of fun goodies with it, like a unicorn ring toss, tic tac toe, and a candy board. This is great for playing outside or even for sleepovers.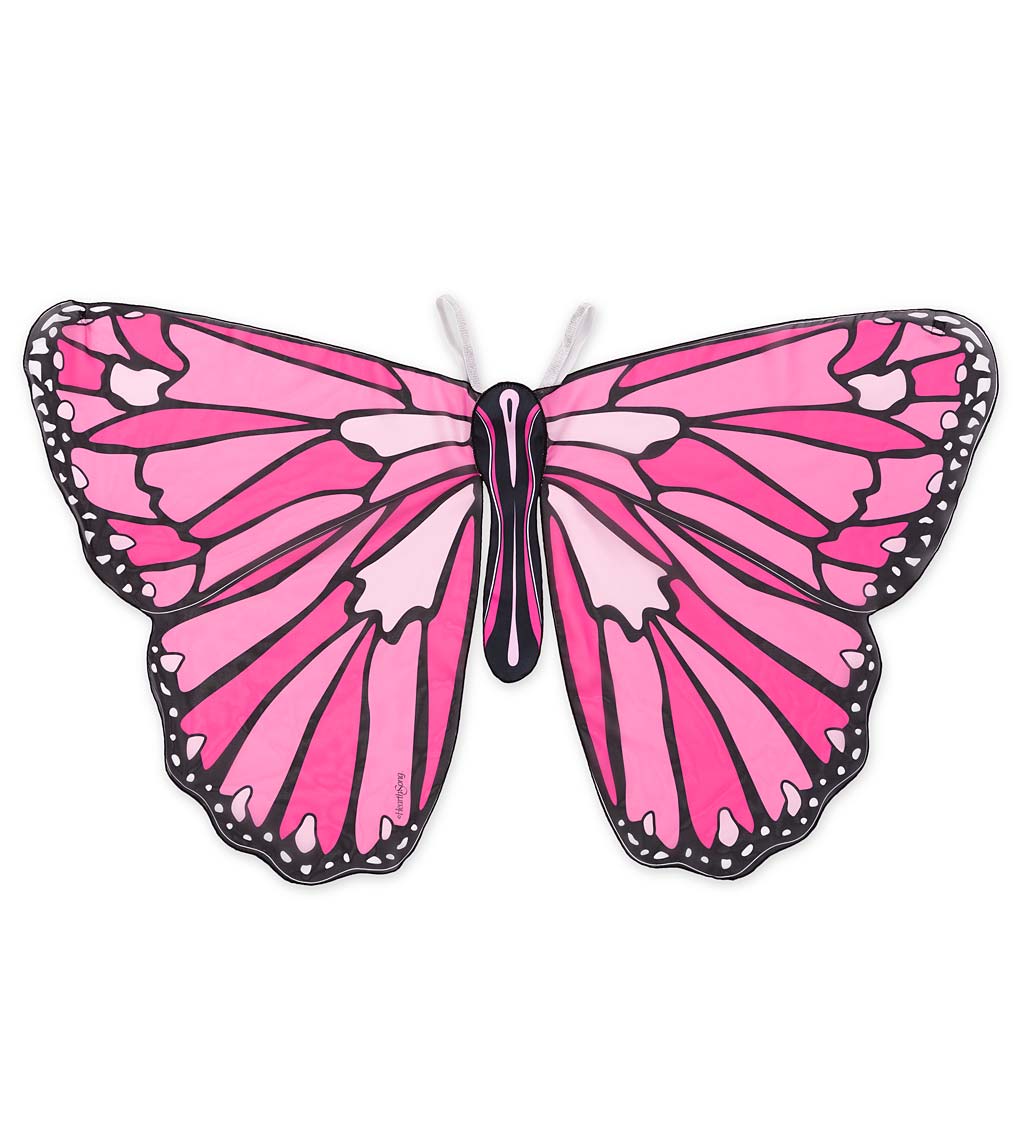 How fun would this be for your beautiful child to be a beautiful butterfly? These wings are cloth and life-size so they can pretend to be a butterfly in an enchanted garden. A great outdoor toy to enhance your child's imagination. Comes in three different colors.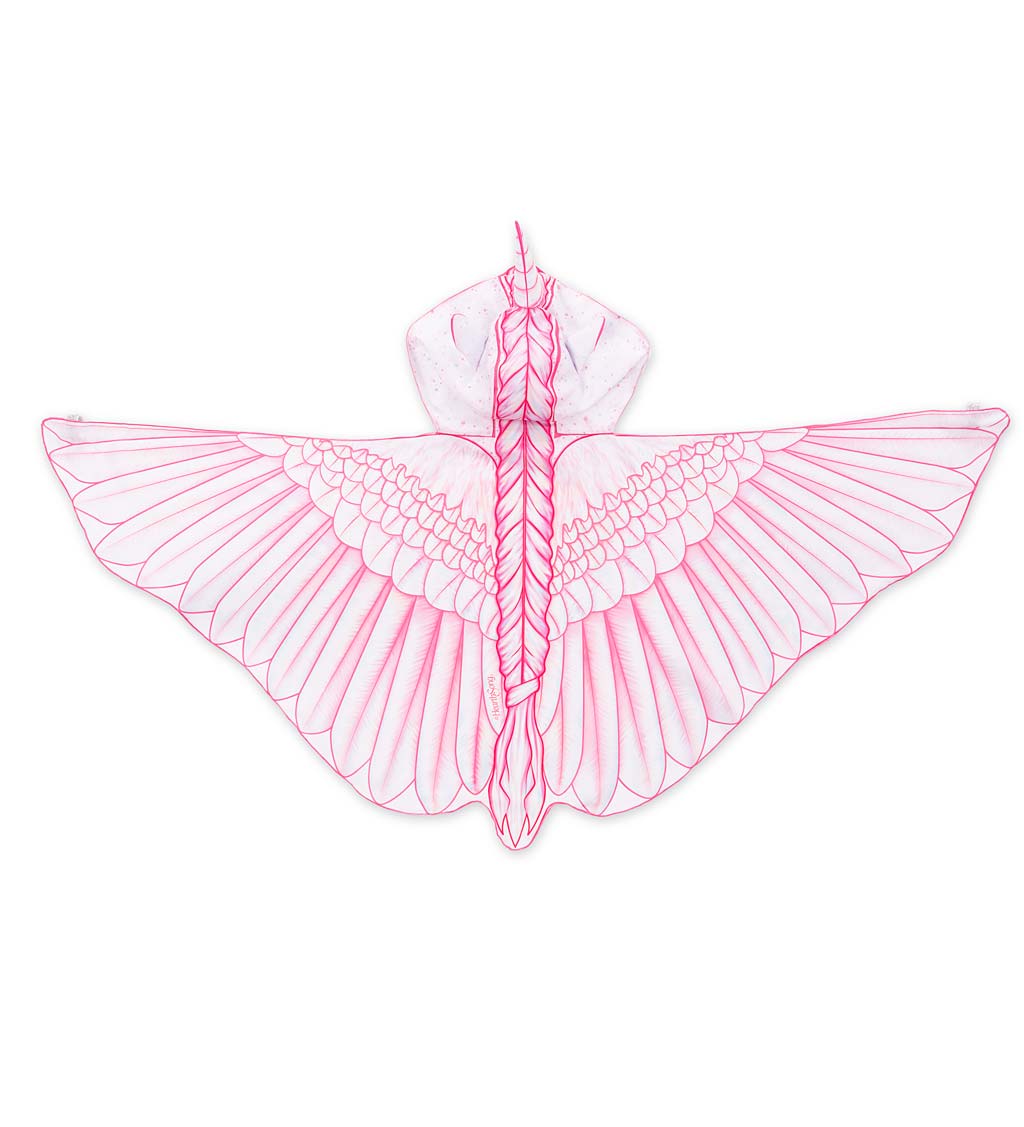 These gorgeous unicorns wings will be perfect for your little one to gallop and imagine being in a beautiful enchanted forest. A great outdoor toy to get your child's imagination going. Comes in pink and rainbow.
Fairy Dress With Wings

These are so cute, I would love to have one when I was little. Get your child's friends together and they can all pretend to be butterflies, unicorns, and fairies in a whimsical garden.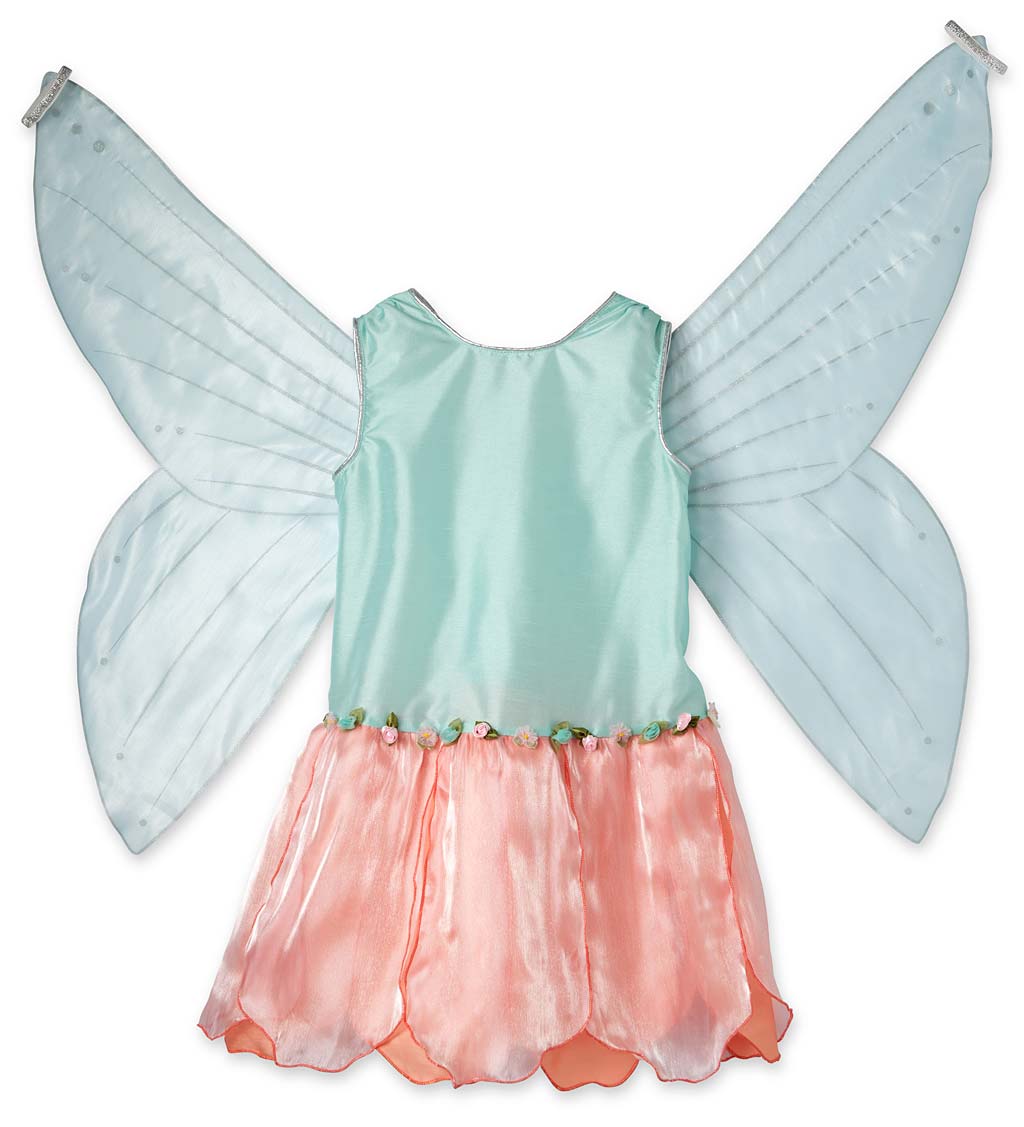 This garden is so much fun and even comes with a flying fairy. This has swinging doors, trickling water, and so much more for your child to use their imagination. They can make your backyard their own hidden garden and get lost in their imagination.
Inflatable Unicorn Sprinkler

Have a fun unicorn party just because using this fun unicorn sprinkler. This is no ordinary sprinkler toy for your kids to run through.
Outdoor Games For Kids and Family
This game is fun for the whole family. You can bring it anywhere you go, BBQs, beaches, camping, or just in your backyard. A fun backyard game for your kids. Buy Ladder Toss Here
Connect All 4

I love classic games that have become life-sized, I don't know about you? But this outdoor toy is perfect for anyone at any age, great family time. Buy Connect All 4 Here
How fun is this? Again life-sized games are so much fun! You can get creative with this outside toy, you don't have to play dominoes you can also build a life-sized domino structure. This fun backyard game can be a great way for your elementary kids to practice their math during the summer…
Another great classic game even your young child can have fun with this. For an adult gathering or just family time. What a great outdoor game your kids can play on a relaxing day. You can bring it inside for the cooler days too.
This is a fun toy for kids, that will keep them busy for a bit. Make it a fun backyard game and get creative.
Who doesn't like corn holes? This is portable so you can bring the fun wherever you go. You can have a fun game night in your backyard as a family, bring it to a picnic, or camping, the ideas are endless.
If you can't tell I love life-size outdoor games. Another fun way to make the camping nights a lot of fun, or a night time family night in the backyard.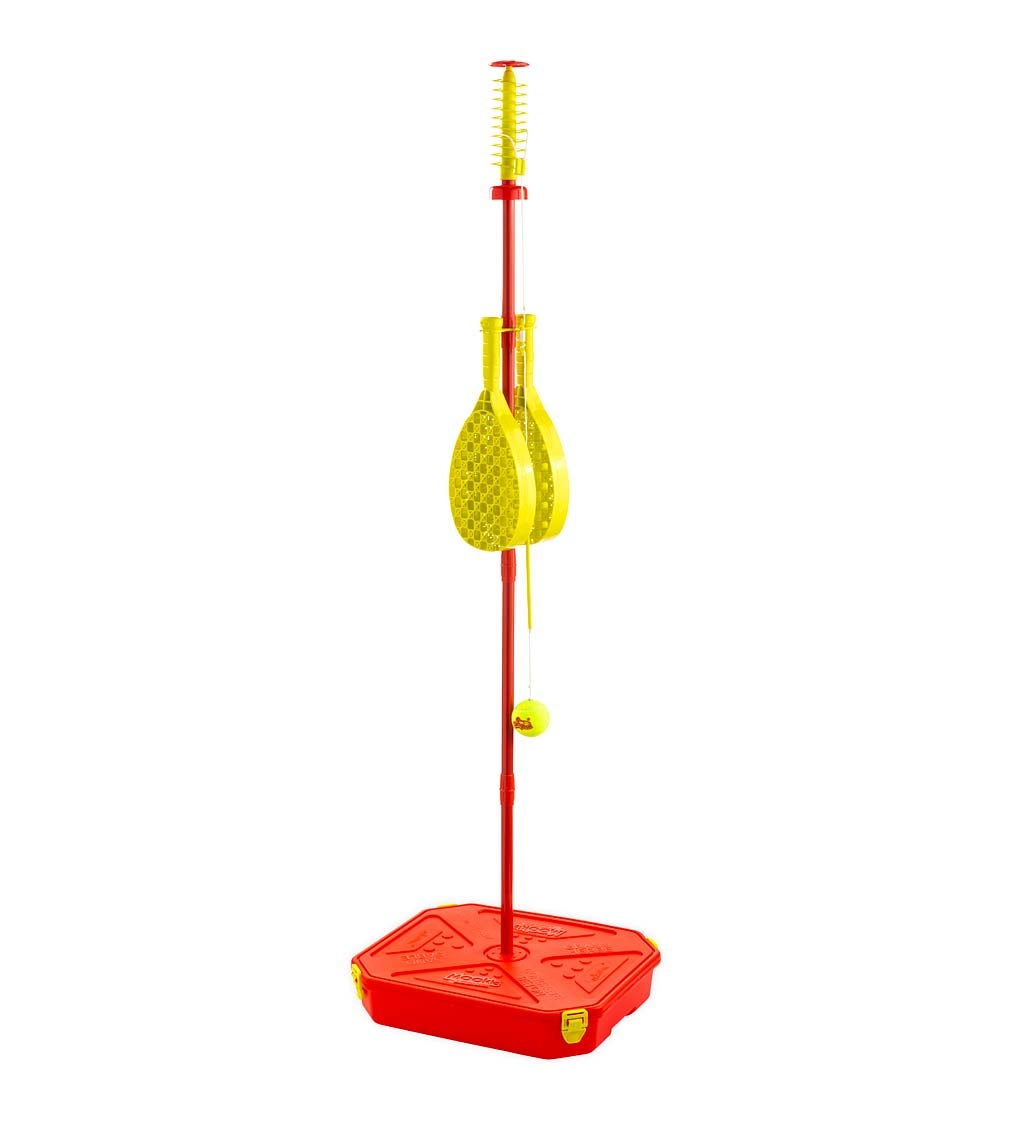 This is a fun game for the kids to play outside. It's kind of like tetherball and table tennis all in one.
Outdoor bowling? Yes, please. What a fun way to bring the party to life, or even camping. You can still enjoy it inside with it raining outside.
Portable Badminton

This is something everyone can have fun playing. Bring it anywhere you go, to parks, beaches, camping, to a picnic, the list goes on.
Outdoor Swings For Everyone
How cute and pretty is this swing? ? You can sit on your porch with your baby swinging next to you as if you're reading a nice book with some ice tea. That sounds so amazing right now, doesn't it?
A cute and simple swing for everyone in the family to enjoy. You can have them play on it and after they are older it's a really cute decorative piece. ?
Rope Swing

This is a fun swing where kids can swing or climb and jump off if you have a daredevil. These swings are always a hit with the kids, the perfect backyard toy for your child.
Bungee Bounce Swing

This outdoor toy will keep your child busy for hours. This is a swing and a bounce all in one. You can even remove the swing and attach the handles that are included and turn it into a gymnastic fun.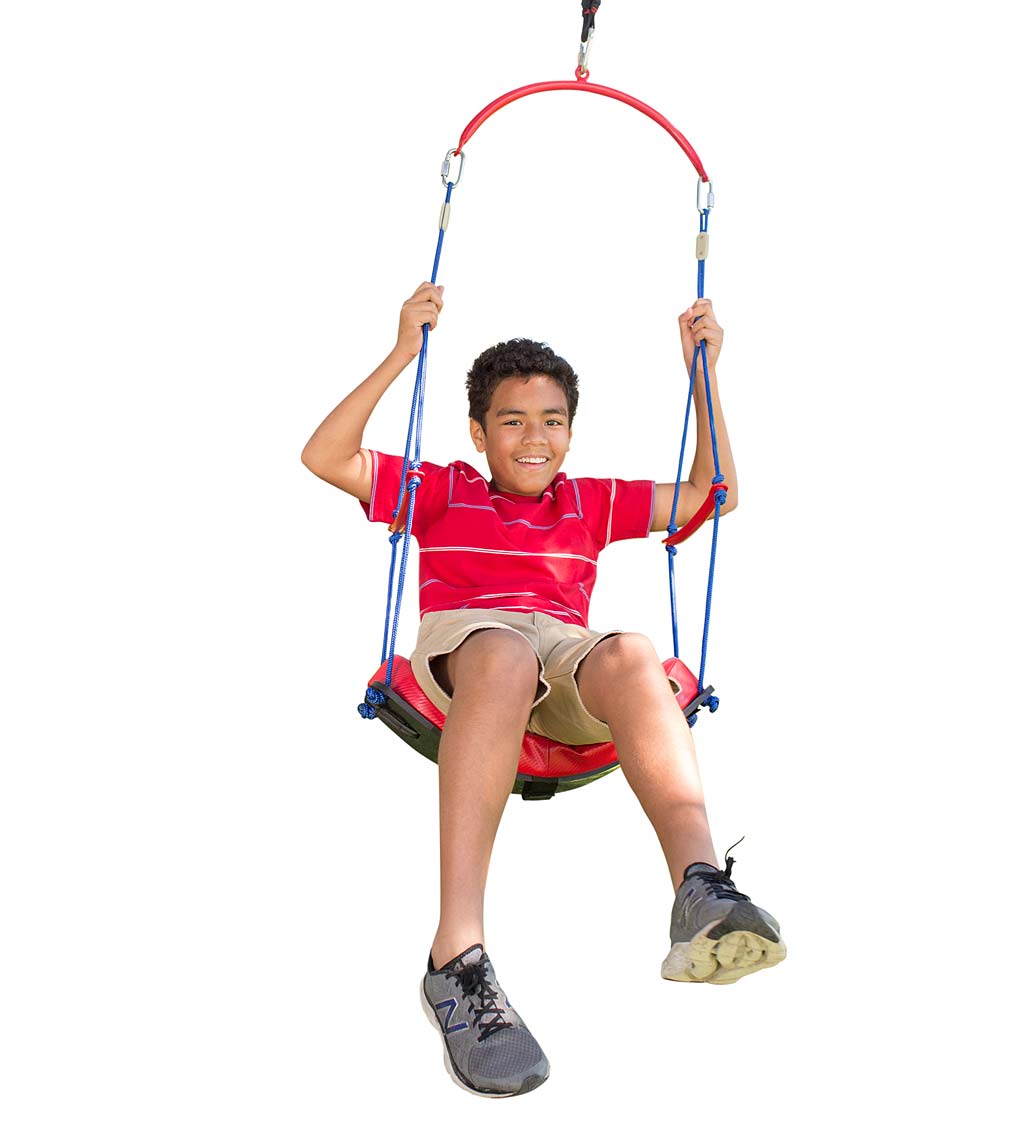 Hanging Swing

I have to say, if I had this as a child I would spend all my time here, reading, sleeping, enjoying the outside. So much fun and a good way for kids to get their quiet time in too. This is an outdoor toy that every parent could get behind. Buy Hanging Swing Here
This is a beautiful and cozy-looking swing. Any baby will love to swing in here and listen to the bird's chirp. I wonder if they make an adult size swing?
Buy Baby and Toddler Swing Here
How cozy does this look? The best thing about this swing is that when it's cold outside they can use it in their room. A great place for them to hang out and relax. I want one for myself.
HugglePod

This is another super fun hang out place for outside. Bring a book, your toys, or tablet and enjoy the peaceful outdoors. Check out the family size one also! These have LED lights inside too, how fun!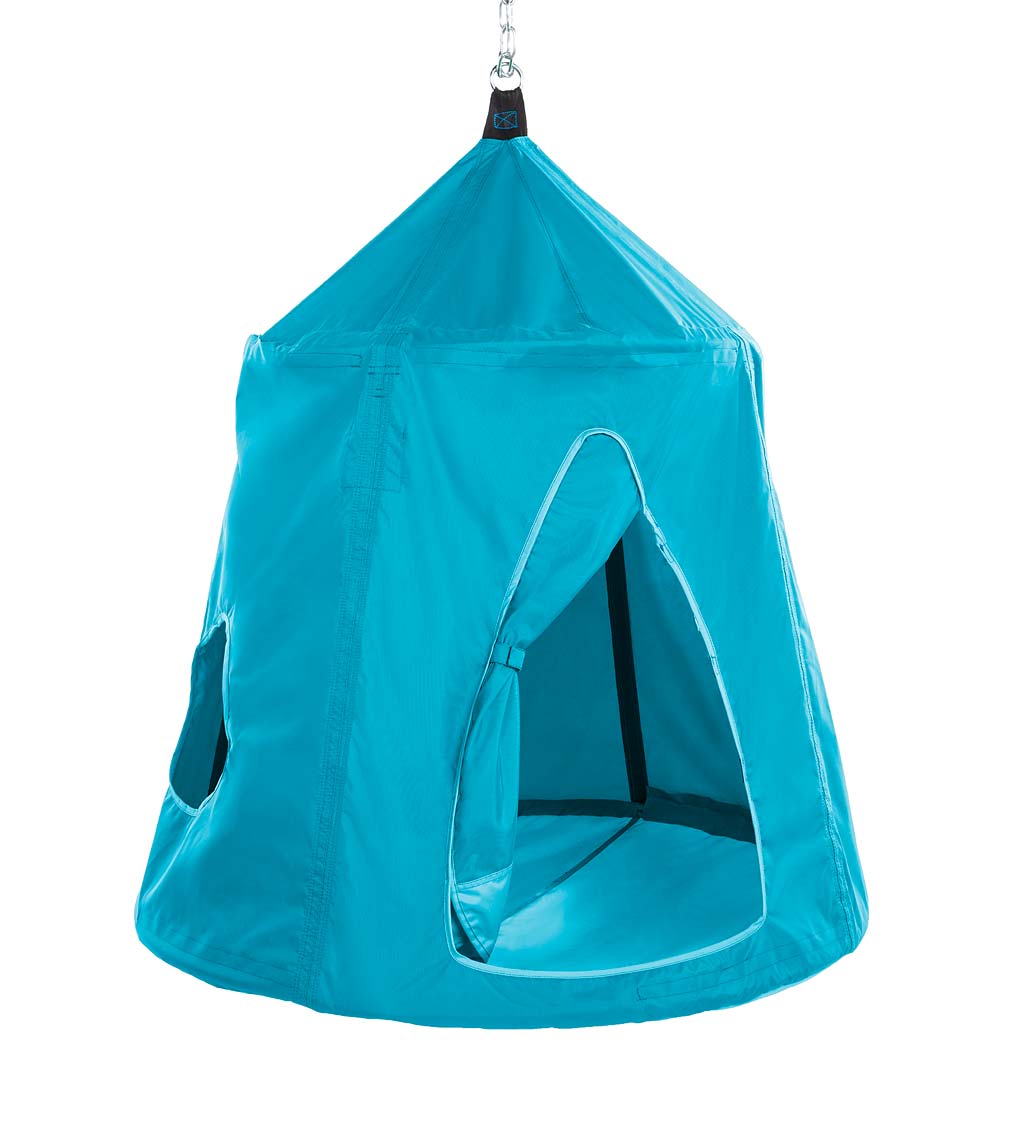 Swinging Lounge Chair

Life can't get any better than this right? The whole family can sit back and enjoy this. Just imagine sitting reading, drinking iced tea (or margarita), and relaxing… oh yeah, this post is for kids. They can enjoy it too. ?
This is the perfect hammock. If you don't have a tree to hang it on this hammock comes with the stand so you can use it anywhere you want, it is even portable! I think this outdoor toy is more for the parents but I guess we can share. ?
Platform Swing

How fun and relaxing does this look? A great way for kids to play and relax in their backyard all at the same time. It's cool because more than one kid can be on it at a time.
Vortex Spinning Swin

This swing is not the typical swing, your kid(s) will love it. Swing, spin and get dizzy, what kid doesn't want to do that. The perfect backyard toy for your kids.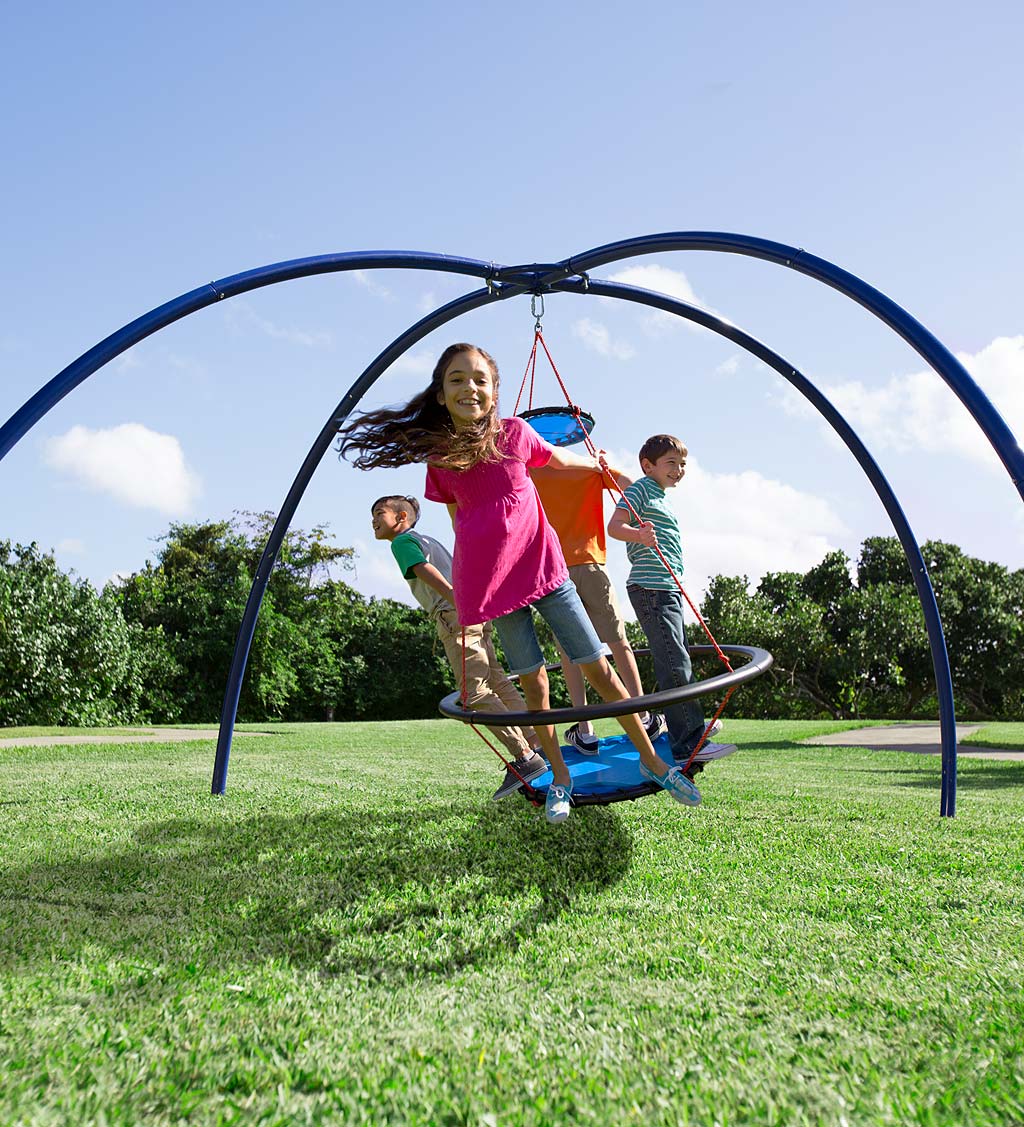 But Vortex Spinning Swing Here
Outdoor Toys To Ride
Your toddler will love this outdoor toy, especially when going for walks. A great way to keep them having fun and entertained instead of always being in the stroller.
This is a fun wagon to bring on walks or anywhere else that involves long walking. They can have fun eating their snacks all while enjoying the outdoors.
This is a fun toy, a great alternative to a bike. They can use something different and still get great exercise.
This looks so fun! All the kids will be lining up to have a turn, I'm sure even the parents too. You can turn this into a outdoor game and have the kids race, or make a race course with street cones.
This is a pedal-powered bike, that is easy to steer. This is a great workout for kids and gets that energy out. A great outdoor toys for kids 4 and up.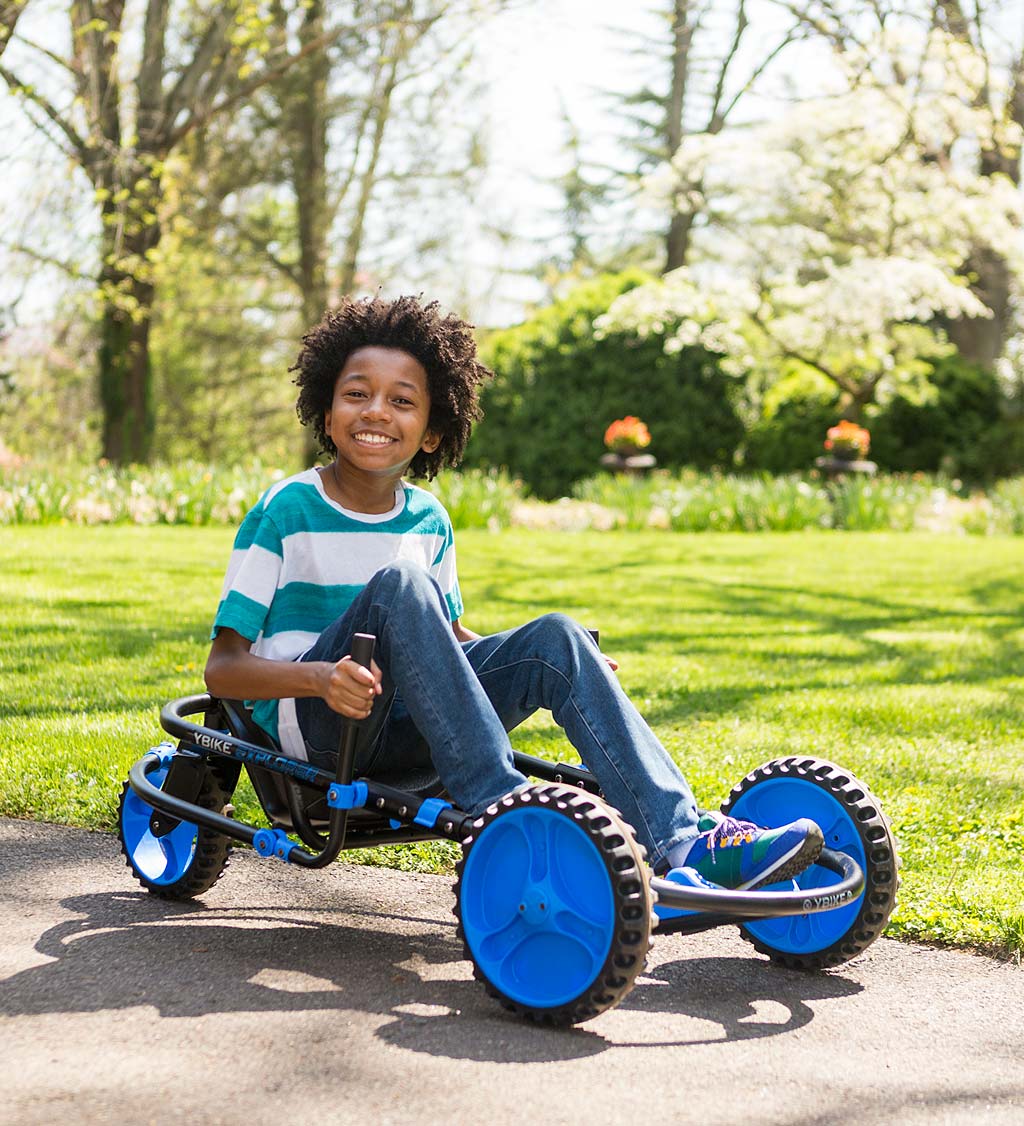 Electric Jeep Power Wheel

Every kid will be happy to have this as a toy. My boys all love taking turns to drive. It's easy to maneuver so if they don't go off track. A fun way to go on a walk.
Little Tike

This classic toy for toys is perfect for them to enjoy being outside, they will enjoy this for hours.
Ezyroller

This is a really cool unique outdoor toy for the older kids to enjoy. They can ride it pretty much anywhere. A really fun toy for kids 8 and up.
Paw Patrol Plasmacar

This is another fun ride kids from ages 3 and up can enjoy outside or inside if you have hard floors. I would have loved this as a kid.
Electric Scooter

Now, this is a lot of fun. My son has one and we had to try it. I think we liked it more than he did, maybe because we were hogging it? This is an outdoor toy that you won't regret to get your kids.
Hoverboard Scooter

These are SO cool! It challenges your balance but this is a super cool outside toy for the older kids.
Kick Scooter

All kids love to have a scooter. A fun way to get around if they don't feel like riding a bike. Perfect for kids 5 and up.
Toddler Scooter

If your toddler isn't quite ready to ride a scooter this is a perfect way for them to still enjoy riding a scooter and getting practice. This toy can ride outside sitting down or standing up.
Outdoor Sports For Kids
If you kids love sports this is the best outdoor set to get them. They can enjoy soccer, basketball, and hockey. Buy Sport Set Here
This little sport climber is so cute and your toddler will love playing on this and learning how to slam dunk. This is a perfect outdoor toy for your toddler.
Frisbee Golf

This is a fun sport the whole family can enjoy in their backyard. Great practice for the real parks. A fun outside game for everyone.
Hover Soccer Set

This is a pretty cool outside toy, but it's not only for outside you can even play with the cool hover soccer ball inside and not be sorry about it flying and breaking something.
SypderPong Tennis Table

This table you and play table tennis, volleyball and 4-square. How fun would this be at any outside activity you do?
Croquet Set

Everyone knows about croquet. It's a fun and simple backyard game that everyone can enjoy playing during a fun family night outdoors.
Related Post You May Like
Outdoor Toys To Climb On
Caterpillar Climbing Tunnel

Look at that caterpillar, it's so cute. Your kids will love to play on this and climb through. You can have it at your house too if you can't have it outside.
Easy Peezy Monkey Bars

If you can't go to the park, then bring the park right to your backyard. This will get your kid's energy out and they will love climbing and hang from this for hours to come.
8 Station Playground

No need to worry about hearing your kids say they are bored again! This outside toy set has everything they ever need to keep them happy and entertained.
Outdoor Bubble Toys For kids
I have never seen a kid who doesn't like bubbles. This wand makes so big bubbles your kids will want to do this all day every day.
You kids will be amazed seeing all the big bubbles and seeing so many at once. I don't know what it is about bubbles but they make everyone happy.
Bubble Lawn Mower

Great practice for when they are older and can start helping out outside. My oldest had one when he was little and loved this outdoor toy, He would be in the backyard pushing it back and forth all day long.
This will get your toddler laughing and having fun for sure. Kids love fire trucks and bubbles and put them together they will have the time of their life.

Whale Bubble Blower

This is so fun. It'll give you a break and keep you from passing out from blowing bubbles for hours on end.
Dolphin Bubble Gun

This gun is endless entertainment…until the bubbles run out, but that' why you get a huge gallon of bubbles and they will be set for a long time.
Bubble Maker Set

This is a simple way for your kids to enjoy making bubbles of all sorts of shapes.
Outdoor Bouncing Toys For Kids
Unicorn Pogo Jumper

This is a fun pogo jumper, looks a little easier than a normal pogo jumper. Your kids will love hopping up and down the street with this toy.
Inflatable Ride-On Hop Unicorn

These are cute and can use them to have fun races. Great toys for indoor and outdoor entertainment.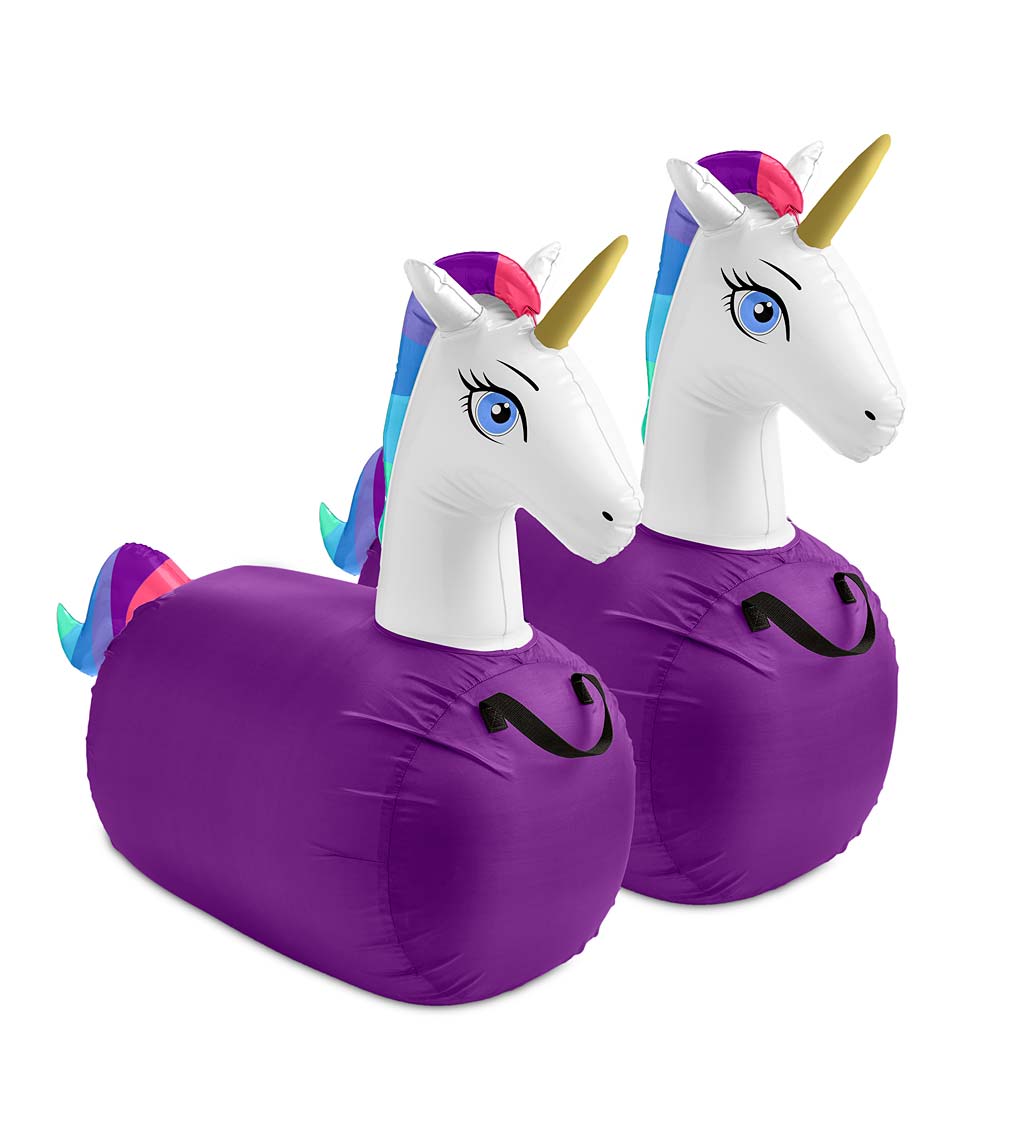 Moonshoes

Moonshoes, how fun are these? Your kids will want to wear them around the house all day and night.
Bouncy Jumping Shoes

Make yours or your kid's next walk a completely awesome walk! These are so cool, I would want to wear them everywhere. Get to your next destination so much faster. ? Such a fun outside toy for the older kids.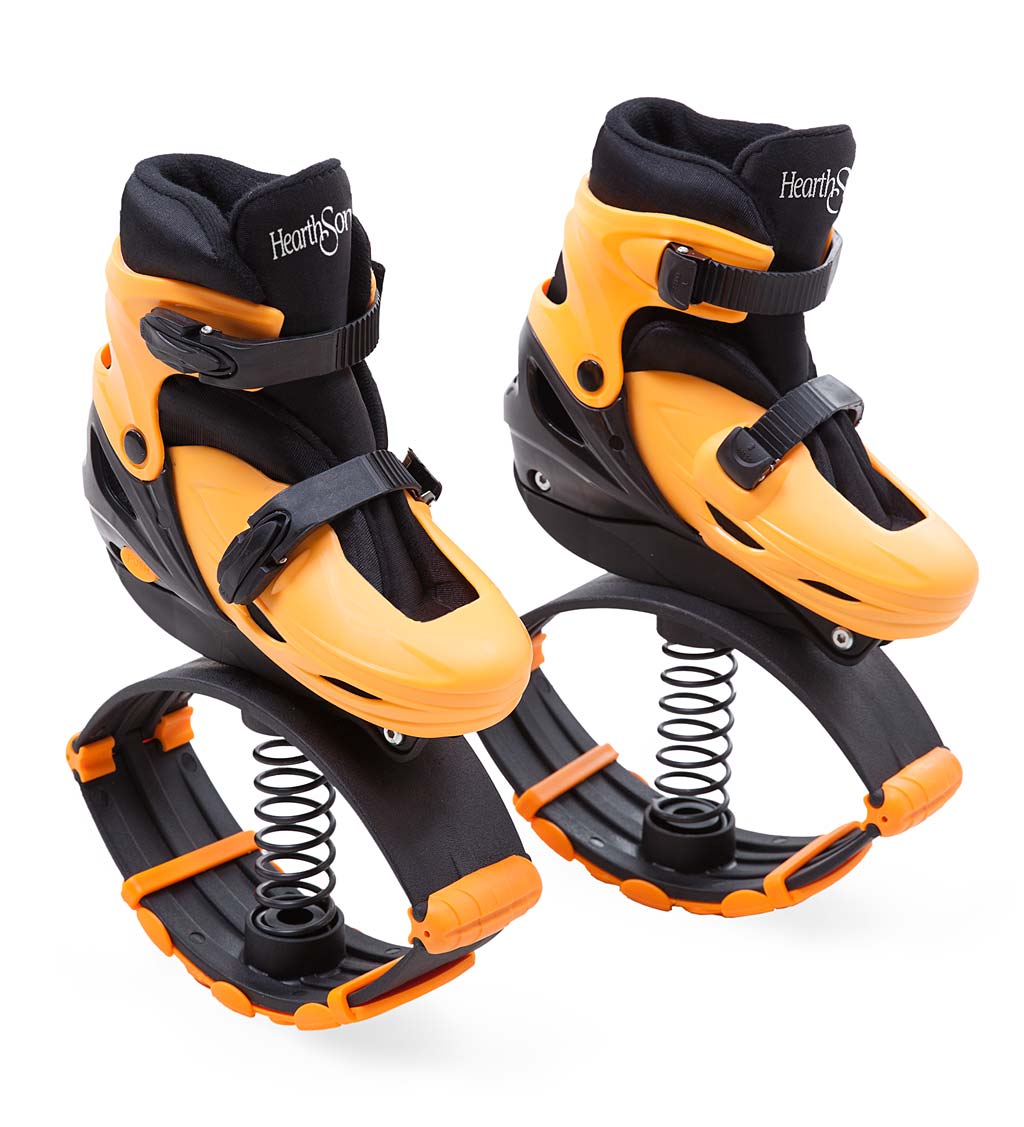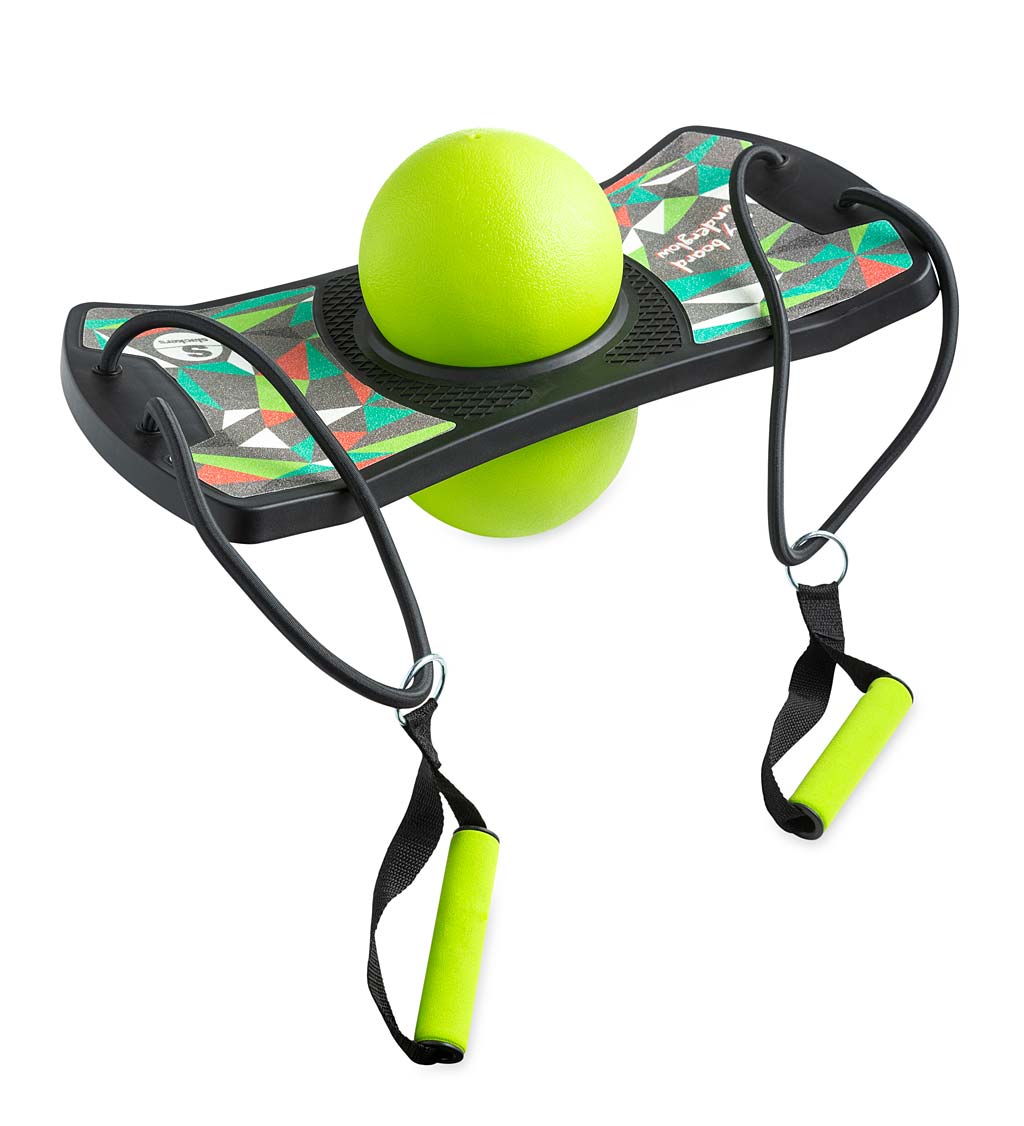 This outdoor toy is so much fun. You put your feet on the board, hold onto the handles, and bounce all around. It even lights up!
Unicorn Hopper

This is a fun toy for any toddler. Just watch them bounce around the house or the sidewalk outside.
Trampolines are one that you won't go wrong with, to let kids have fun. This comes with a protective screen. Put a sprinkler under and let them have a daring good time.
Foldable Mini Trampoline

Every kid loves to jump around and play on a trampoline. This one you can have outside or in your basement if they aren't unable to go outside. It even folds up. I know parents love when things come compactable.
Jungle Bounce House

If you are needing to get things done around the house and need something that will keep your kids occupied for a while, this is it! The thing is they may never want to get out.
Play Stepping Stones

This is a great outside toy. It's so simple but they can be so creative and use their imagination with these. They can pretend there's hot lava and they can't fall in, or they are in a jungle and they are trying to avoid falling into the water where they will be engulfed by the sea monster… or something like that.
Jump-O-Lene Bounce House

This is a great alternative from a trampoline for the young ones. You can have it outside or inside for hours of fun.
Rainbow Bounce House

This bounce house is pretty cool. It's a bounce house that also has a ball pit that can also turn into a mini pool. A great bouncy house for all year round use. Fits great in a playroom also.
Creative Outdoor Toy for Kids
Glow 'N Grow Terrarium Garden

This is a fun way to learn about gardening and watch the plants grow. You can keep it outside and see it glow or bring it in your room at night to watch it glow. A really fun way to enjoy gardening.
Build A Garden

This is a fun and unique way to get kids excited about planing plants and watching them grow. They can use their imagination as they learn about plants.
Unicorn Garden

Unicorns are the thing right now, and this is a pretty cool way to get them interested in plants and taking care of them. A fun whimsical way of learning and playing.
Rock Painting Set

This is a fun and creative way for kids to get creative and also appreciate rocks. A great calming indoor or outdoor activity for kids.
Inflatable Painting Easel

Don't want to worry about paint getting somewhere in the house? Don't worry they will have so much fun using the painting easel outside where they can look at the great outdoors for their next painting inspiration.
Paint A Birdhouse

What a fun way to show birds how much we love them. The birds will love their newly painted house. After they are done painting you kids can watch the birds go into the house and eat their food.
This is a fun way to get creative with sidewalk chalk art. This outdoor toy is a must-try. Write or draw something happy for someone walking by.
Sidewalk Spiral Chalk Art

A very clever way to get creative with sidewalk chalk art. Make your sidewalk into a work of art. It's so much fun going for walks and seeing kids work of art outside on the sidewalk.
Sidewalk Spray Chalk

Another fun way to get creative with sidewalk chalk art, and maybe a little easier than normal chalk.
Sidewalk Start Stencil

These stencils are perfect to get creative and use your imagination when you are decorating your driveway or sidewalks.
Space Chalk Stencil

Have fun making a whole universe right on your driveway. Everyone will be stopping to check out your amazing artwork outside.
Springtime Sidewalk Stencil

Brighten up someone's day as they walk by. These flowers and birds will add even more happiness and color on their walk.
Buy Springtime Space Stencil Here
Mandala Sidewalk Chalk Stencil

Mandalas are always fun and pretty to look at. You can get as creative as you can with these stencils. You will definitely have people stop to take a second look.
Outdoor Learning For Kids
Outdoor Adventure Pack

Get your little curious explore outside and let them see what they can find on their adventure. This adventure toy is full of things that will help them discover new things and explore things they may have never seen before.
GeoSafari Sea-Scope

Now, this outdoor toy is so cool. I've never seen anything like this. Your kids can discover so much with this cool underwater telescope. They can use it on the surface also to discover spiders and birds. it has a flashlight, ruler, and temperature gadget.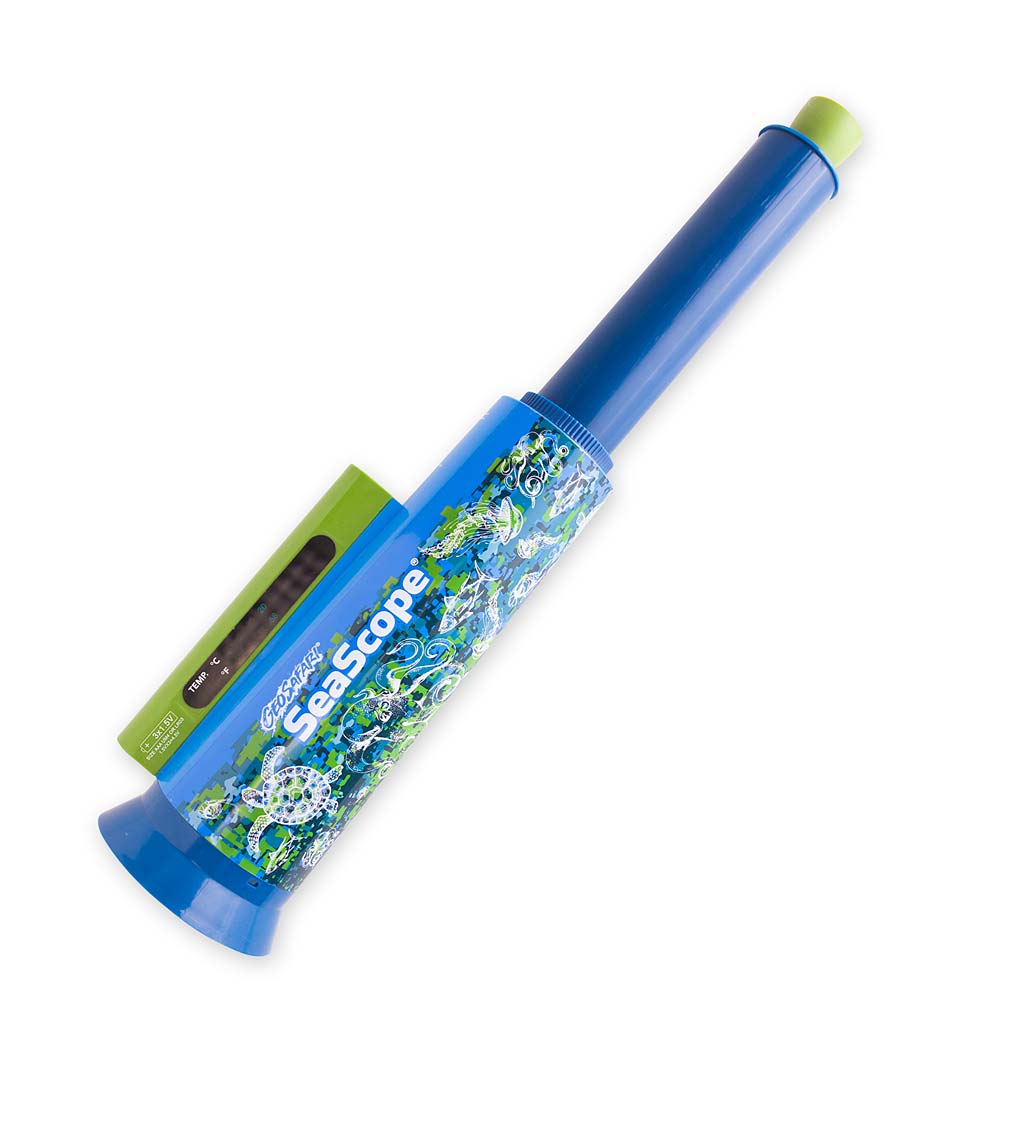 Explore Nature Book

This book has all sorts of nature explore activity ideas that your kids can do. Get out, explore, and make discoveries.
Outdoor Explore Kit

Another great exploring kit for kids. They can go outside and find things they never have seen. If they are brave enough they can take an adventure and find bugs that they haven't seen up close. This also comes with an insect book so they can learn all about the bugs they find.
Outdoor Walkie Talkie Scavenger Hunt

This is a great toy for kids to use outside. They can let their minds run wild and play pretend with their siblings or with kids in their neighborhood.
STEM Rocket Launcher Experiment Kit

This is a super fun learning experiment your kids can do right outside. They can build their rocky and watch it launch and see how high it goes. You can even reuse the rocket over and over again.
Outdoor Slides and Houses
This is a fun playhouse for your toddler to play and learn. Get those motor skills working and problem-solving skills working. It even has storage!
Alpine Ridge Climber and Slide
This playset will ensure to wear your kids out. There is a mini climbing wall, telescope, slide and turning wheel so they can pretend they are on a big pirate ship.
I love the farmhouse style, and how cute is this playhouse? Your child will love this as an outside toy. Look at those cute flowers, and the little kitchen… how things have changed since we were kids!
If you have a little curious, brave climber this is the toy for them. They will want to be outside all the time to climb. They will have so much fun being creative and problem-solving.
This is a fun and one of a kind playhouse. It has a kitchen inside, a grill outside, and even a fun water table on the side of the house to make this house something that will keep them busy for quite some time.
This house is an all=around fun house with different activities you kids can enjoy. It has a sand and water table, a grill, and a snack counter that includes the dishes.
BeachFront Playhouse

The whole neighborhood will want to come over to play on this cool playset. It has everything a kid would want. It has a slide, swings, and cover patio, picnic table, climbing wall, and a table with a bench. All in one fun for the kids to enjoy outside.
This playhouse is amazing and has so much for your kids to do. It's great for kids 3-8 years old. This two-story playhouse has a hiding space, a slide, swings, two seated glider, and a climbing rope.
This house is fun for kids 3-8 and has a hiding place so they can use their imagination and bring it to life. A fun slide and swings.
Uniquely Fun Outdoor Toys
Sit 'N Spin

These are the ultimate classic toys for kids to play inside or outside. Kids love to get dizzy and this is a great way to accomplish just that and make them laugh.
Giant Rolling Wheel

Not going to lie, I want to play with this. Your kids can race, roll down a hill, play with it in a pool, so much fun.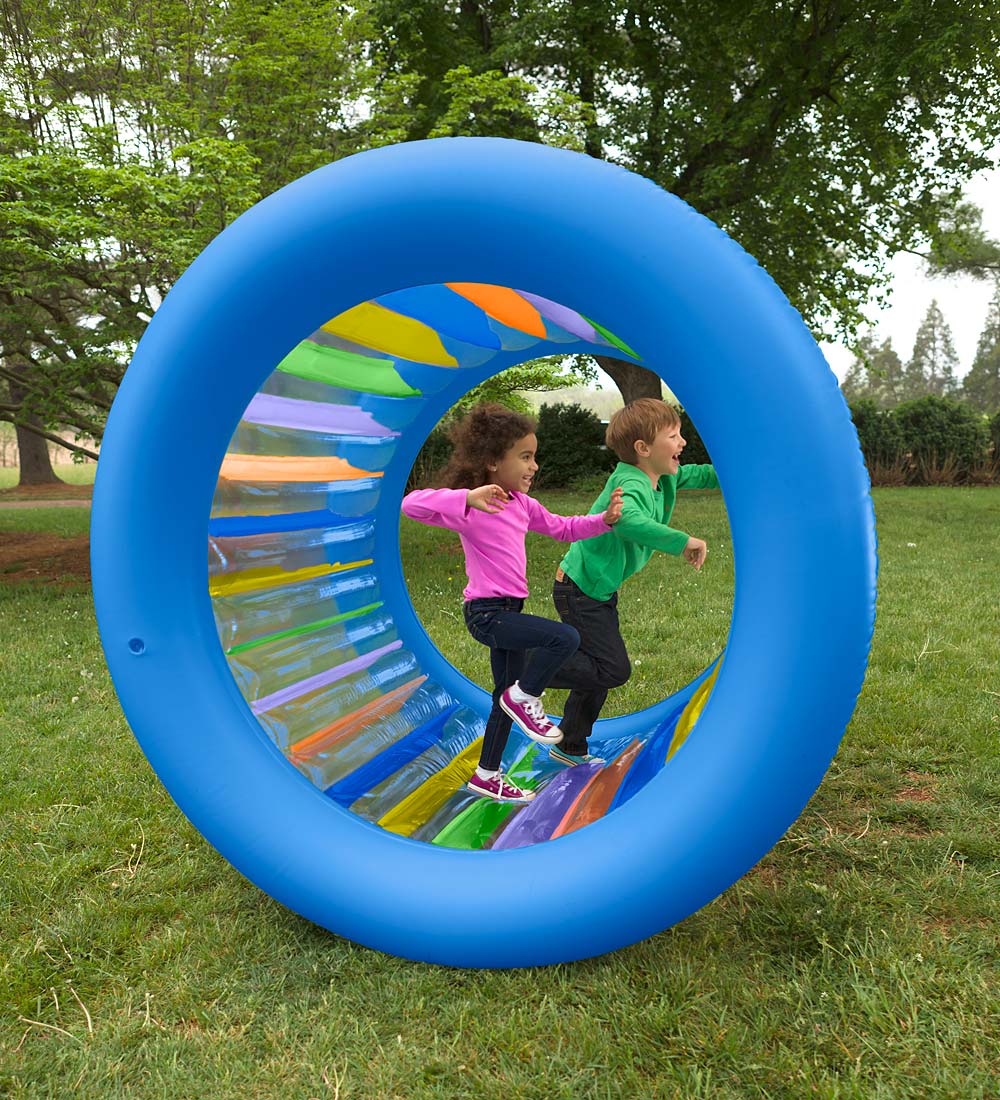 Teeter Totter Airplane

How fun does this look? You can have 2-7 kids all on here enjoying the fun. So invite your kids friends over so they can all have fun flying the airplane.
Buy Airplane Teeter Toter Here
Rocker Seesaw

Every kid loves seesaws. This one is a lot of fun, and kind of calming, they can relax and rock themselves, hopefully to sleep. ?
Bow and Arrow For Kids

This is a fun toy for kids to play outside. Get some practice on their archery and maybe develop a new hobby.
WonderWave Seesaw

Now, this looks fun! A fun new twist to the typical seesaw. I can see adults enjoying this too.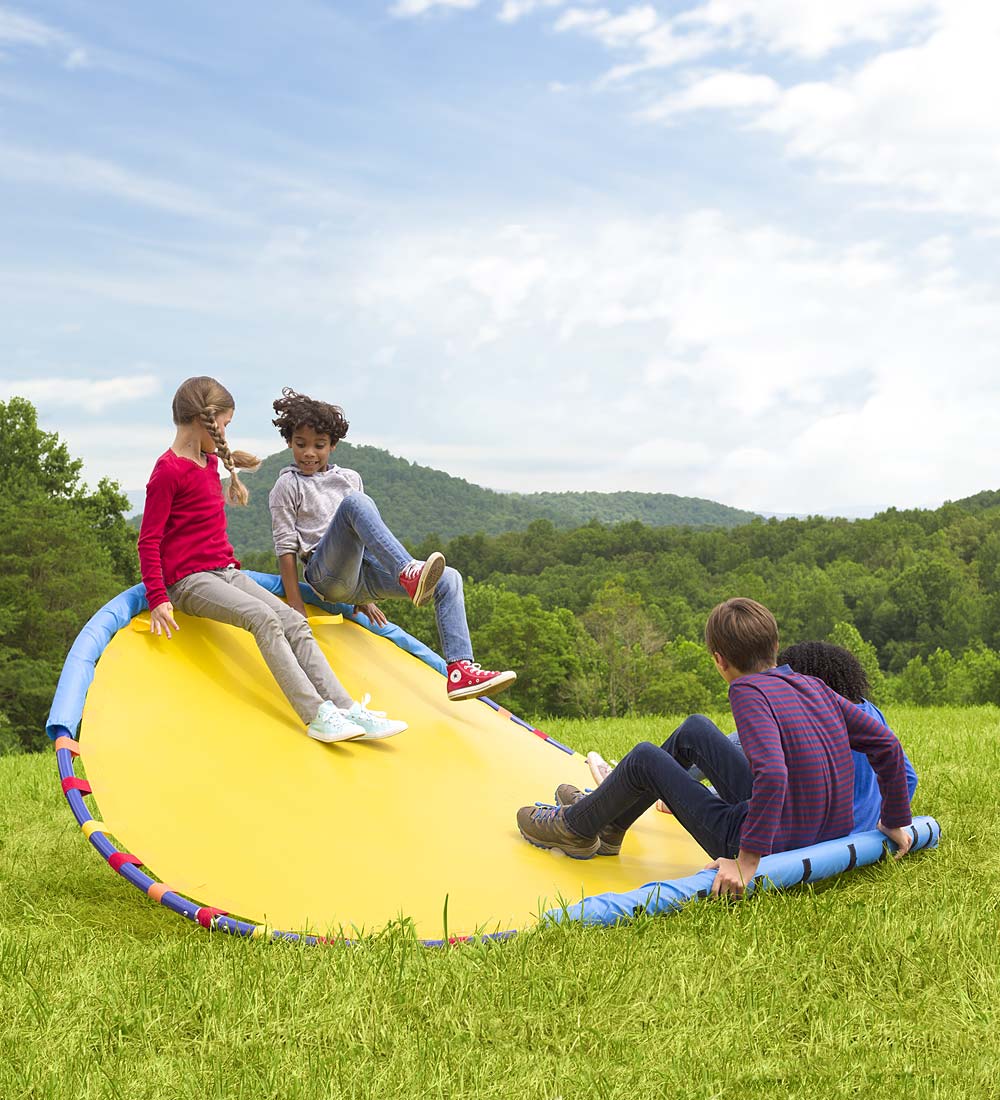 A kid has to fly a kite at least once in their lifetime. This dragon kite is pretty cool, you kid will be amazed watching it fly.
This is a fun toy that your kid can play outside or inside. They can practice their numbers and even math using this. It's kind of like a fun learning corn hole game.
Get this set for your kids and they can come out and help you in the garden. The perfect relaxing quality time you can spend together.
Backyard Zipline

This is the best outdoor toy for your kids. This will give them hours of fun and entertainment. Create an awesome obstacle course with this.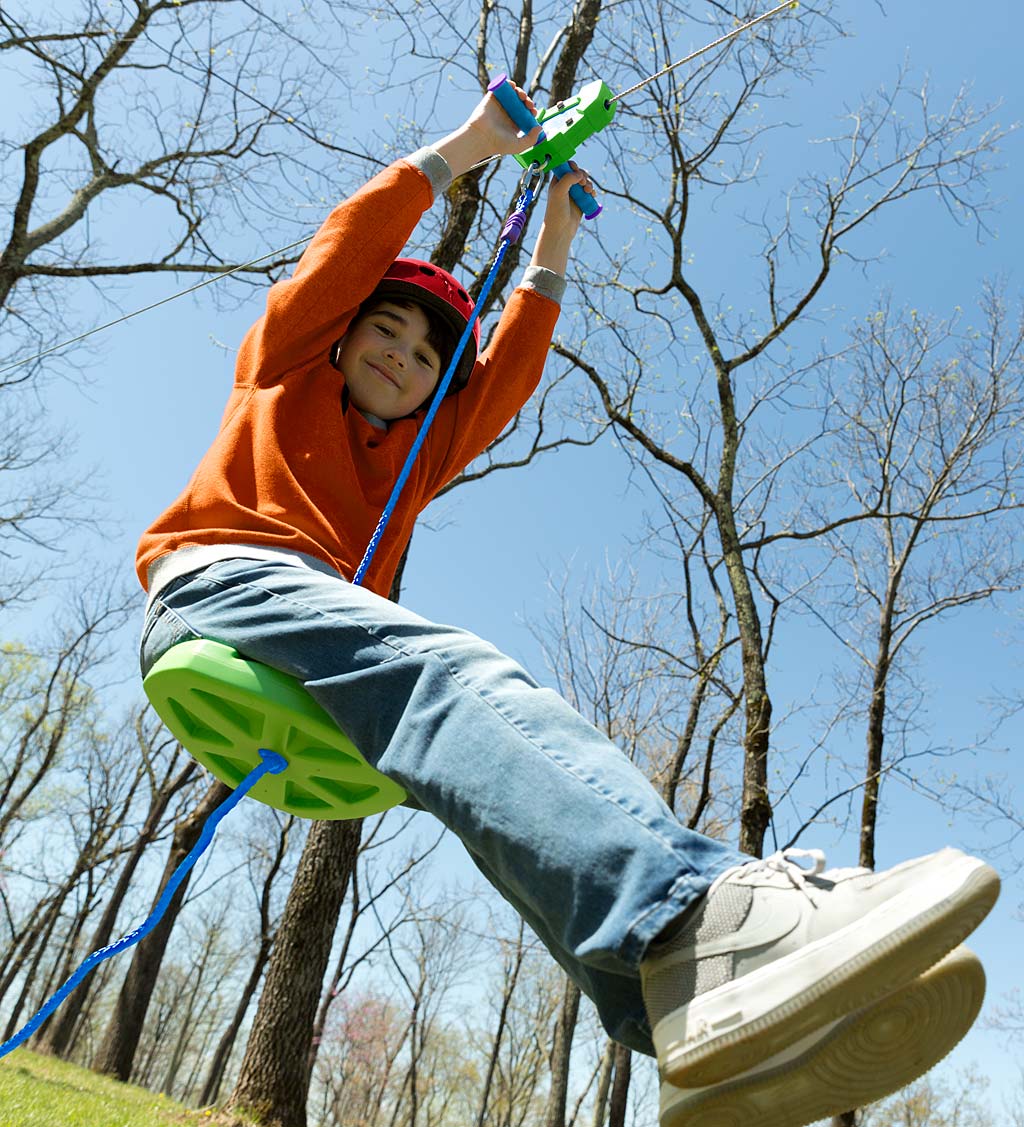 These are super cute little crabs. Your little ones can have fun playing catch together or with you anywhere you want to take them.
This is a cute chair that your kid will love to bring with them, inside, outside, camping, to the beach, a picnic, anywhere. It even has a cupholder. Buy Octopus Chair HereI hope these give you some fun ideas to do and for you kids to do, so you don't hear them say they are bored all summer long